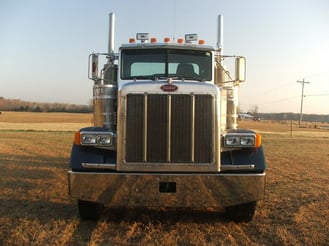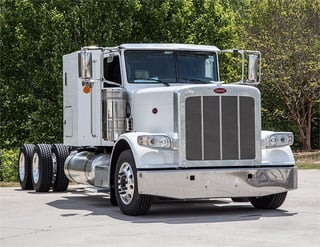 One of the Peterbilts pictured above is new. The other is a 2001 model. Not easy to tell the difference, right?
It won't surprise you to hear that many of the best reasons to lease a used commercial truck -- tow, dump, or otherwise -- are cost-related. You may be surprised to learn, though, just how many ways -- whether wallet-impacting or not -- you can benefit from going used.
Benefits of a Used Commercial Truck
1. Reduce Financial Burden
You don't get paid because of how "new" your commercial truck is.
Leasing used eases the financial burden right off the bat. Even a slightly used truck will carry significantly less up-front cost than a new one.
Does your competitor grow money on trees? If not, your used-vehicle lease payment of $800 to $900 a month is going to make you much more competitive versus his new-vehicle payment of two to three times more. Those are savings you can pass on to your customers and use to grow your business.
You'll also have lower insurance costs.
With a better cash flow, you can build up equity faster. And that's ultimately a faster way to grow your fleet. Wouldn't you rather put two or three solid trucks on the road instead of tying everything up in just one?
2. Know Your Commercial Truck's History
The last thing you want is your brand and reputation getting sideswiped by a string of breakdowns on the road.
Gone are the days where getting a commercial truck meant taking the seller's word on its condition. With the advent of telematics and detailed vehicle history reports, leasing used is less of a gamble. Was an engine rebuilt? Chances are you'll know, as there's much more of a paper trail in modern selling.
From your mechanic's perspective, an older truck likely will prove an easier fix than something with which he's not familiar. That familiarity should make for a more reliable ride -- which, again, means good things for your company's reputation.
3. Benefit From Reliability
Used commercial trucks have a history. You probably count on well-known brands and models to perform a certain way and tackle specific jobs.
Known performers feature:
Well-tested, durable engines

Dynamic accessories and parts

Proven safety features and technology

Reliable electrical systems

Fewer manufacturer recalls
Tow operators, for example, need a certain piece of equipment to get certain tows. Doesn't it sound less stressful to operate under an air of familiarity and reliability in these cases?
When leasing a used truck, you'll have a better opportunity to work with proven technology without exceeding your financial limits.
4. Wait Less, Grow More
After ordering it, you might have to wait for a new truck to be built. They don't come right off the line finished. Perhaps you have to hold tight for a new piece of equipment. With used, you don't have to wait -- at all. With a good, trusted mechanic, you can get on the road sooner.
Drivers often become enamored with the promise of a warranty when eyeing a new commercial truck. The reality is this -- you're at the dealer's mercy. In many cases, the larger fleets will take precedence over your vehicle. The repair may be free, but down time is actually more costly.
Down the line, used trucks can always receive updates to its back end or other parts. As a bonus, parts for used commercial trucks are often cheaper.
Smooth Ride Ahead
Running a successful fleet of used commercial trucks is more manageable than ever. With even just a new coat of paint or an eye-catching wrap, you can give the perception that a truck is sparkling-new.
And now that you've learned how to lower your costs and stress level in the busy commercial truck world, you can spend less time at the repair shop or the bank and more time enjoying the family or your at-home fleet (you know -- that four-wheeler or motorcycle you wish wasn't collecting dust).