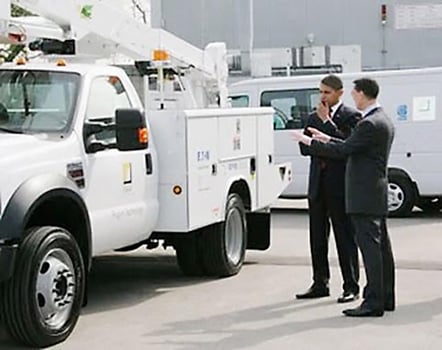 Lease financing -- or lease to own -- is a financial tool that can help you build ownership in a commercial truck.
Why should you consider lease financing? It'll help you find the commercial truck that fits your needs.
Lease Financing = Lease to Own
In lease financing, the leasing company acts as the titled owner of your commercial truck. When you lease to own, you're financing a vehicle, but it's structured in the form of a lease. With each monthly payment, you're getting equity in the vehicle with the ultimate goal of owning it at the end. With a lease rental, you must return the truck once the lease expires.
Leasing to own helps fleet owners who can't afford or simply don't want to pay up front. Why spend your money to grow your business when you can use someone else's?
How It Works
The best companies involved in lease-to-own commercial truck sales cut through the red tape so you can get your truck on the road and producing sooner. Those obstacles include:
Invoicing

Titling and registration

Performing any work needed on the truck

Coordinating payment with the seller
One last thing: Because we're talking about asset-based lending, your deal is tied to a piece of equipment or a vehicle, and not to other assets, receivables, or profits.
OK; ready to roll? The leasing company will then buy your vehicle or equipment and you will begin monthly payments to the company. Once the lease is up, you have right to buy the asset.
Most lease financing is done with a low residual value, so with any luck you'll later have the option to buy your truck for $1.
Why Choose Lease Financing?
1. Flexibility
What's one of the best parts about avoiding going to the bank? The ability to lease any year, make or model.
If you skip that trip and instead try lease financing, you'll enjoy customized payment schedules to fit your company's specific needs -- after all, no two customers are the same. You can play around with the lease structure to accommodate your budget, unlike traditional bank financing, which often enforces more rigid payment terms.
Go the lease-to-own route and you'll also benefit from more flexibility on underwriting requirements.
2. Sales Tax
Everyone hates paying taxes. So why pay them early?
When you're under a lease, many states collect your tax monthly, as opposed to you paying the tax up front upon entering the agreement.
Example Time: Say you sell your commercial truck prior to full term or you total it on the road. With lease financing, you're no longer responsible for the remaining months' taxes. But with a bank loan, if you had to pay $7,000 in taxes for your truck up front, that money is gone immediately.
Sounds like a huge advantage for leasing to own, right?
If you're looking to leverage these potential tax benefits, talk to your accountant prior to putting the lease together for a guideline on how they want it structured.
3. Interest Limited to Collateral
With lease-to-own financing, the lender's interest is usually limited to the equipment or vehicle you're using. If you go through a bank, it will likely tie up blanket assets you've worked hard to own outright. If you use up your line of credit to buy equipment, you can find yourself in a tough position. A lease financing company won't tie up assets that your business needs in order to grow.
It's also notable that unlike most loans or lines of credit, many lease-to-own companies are nonreporting and won't show up as an outstanding obligation. This means leasing to own won't affect your credit or how much money you can borrow. And it's less likely that your previous borrowing will affect your odds of acquiring that new building you've been eyeing for your company.
4. Lease Financing Companies Get It
Collateral is something the lease financer deals with day in, day out.
Meanwhile, banks might make it harder to get a loan OK'd for your next commercial truck -- especially with specialized equipment. Having to explain to a banker why a 10-year-old truck is more desirable than a brand-new one can turn into a hassle.
A leasing company also understands the importance of timely preapproval. You don't want another buyer swooping in on the object of your affection while you wait for a bank loan to go through.
Now Go Get Preapproved!
Now that you know the pros of leasing to own, the next step is to get preapproved. This process allows you to get approved for a set dollar amount so you can shop like a cash buyer and negotiate from a position of power for your next commercial truck.