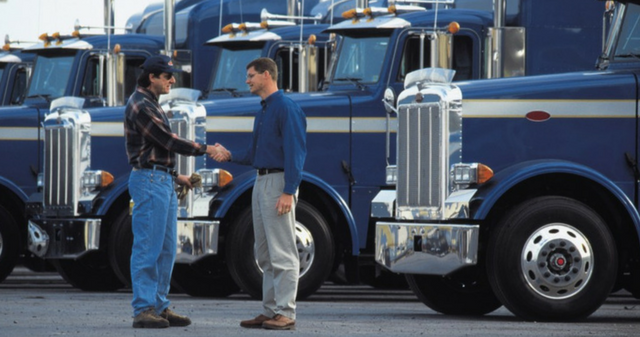 You're in the commercial truck business for the long haul. Wouldn't you like a leasing and financing partner that's committed to your success?
A relationship-based lender is a financing company looking for a long-term rapport with its customers. Below we'll uncover how working with a relationship based lender can help your business grow and save you time and money.
Why You Should Use a Committed Commercial Truck Lender
Personalized Comfort
Every business is different. Many times there's a story beyond your company's numbers.
If you're a small fish in a bank's big pond, you're less likely to receive personalized treatment that takes your specific situation into account. With a relationship-based lender, you're practically considered family. In fact, Intek Truck and Equipment Leasing is a family business -- and more likely to work with your personal challenges running a family-owned operation.
A company working with you in the long term will understand a certain piece of equipment or type of business expansion you're eyeing. Those industry-specific dealings might not be in other lenders' wheelhouse.
The right leasing and financing company will give you all of this with less red tape than a bank. So don't settle for a bank with an "our way or the highway" attitude and rigid requirements.
Trust and Reliability
Companies who value long-term bonds do more than just hand you a stack of money for your next commercial truck. They're matching you up with the right program because they truly get what you're trying to accomplish.
Relationship-based lenders don't want just one transaction to make a quick buck off you. They hope to be a long-term advocate for you.
In deciding which lender to go with, your company of choice should have your best interests in mind, even if it means starting small. Those kinds of lenders understand that if you bite off more than you can chew, you're not going to be a customer for very long.
Time Saved
Relationship-based lenders make the most of your time through hands-on help.
They provide the security of knowing you're already approved for financing. They'll help you make business decisions with growth in mind. And they'll do all this without the three or four levels of red tape you stumble through with a bank.
Over time, you'll learn you can simply pick up the phone and get an answer immediately whenever you see a truck or equipment piece you like. A caring lender is there to prevent snags and let you spend your time where it's needed -- growing your business..
In Sickness and in Health
A lending partner with a long-term outlook and industry experience is more willing to work with you in good times and bad.
Businesses go through cycles. There are a seasonalities to certain businesses and even times when your clients are slow to pay.
That's all OK.
A relationship-based lender will work with your company when it goes through a rough patch. Such a lender will never become that bank that coldly declares, "You have to return all your vehicles. Best of luck!"
Pick the Right Partner
Ride off into the sunset with peace of mind: Find a leasing and financing partner that caters to your personalized needs today. If you have any further questions about what to look for in a lender, feel free to contact us.